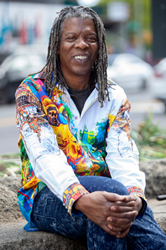 Mark Ruffin celebrates 40 years in broadcasting with the September 1 release of his short story collection, "Bebop Fairy Tales"
How can I explain it, other than that [the book] talk about the power of jazz in people's lives? I guess the real thread behind all three stories is "intolerance is stupid".
RICHMOND, Calif. (PRWEB)
June 10, 2020
Marc Ruffin, known coast to coast as the Afternoon DJ for SiriusXM's Real Jazz Channel, celebrates his 40th birthday on Jazz Radio on September 1, 2020. Ruffin, who is also Program Director for Real Jazz, began his first professional corporate job, at WBEZ-FM, a Chicago NPR affiliate, on September 1, 1980. Since then, he has accumulated an odyssey of jobs, achievements, relationships and stories, to both real and imaginary. (Three of these will be released on September 1 under his Rough In Creative Works imprint, in his debut collection of stories "Bebop Fairy Tales: An Historical Fiction Trilogy on Jazz, Intolerance, and Baseball.")
"I've had a really lovely life, man," Ruffin says, reflecting on his four decades in jazz and broadcasting. "I understood all the way how lucky I was, but it was amazing. I spent 20 years in four jazz radio stations in one city! It's something that's not even possible anymore, but I did. His career in broadcasting has earned him two local Emmy Awards, the Duke Dubois Humanitarian Award from Jazzweek and the Career Excellence in Broadcasting award from the Jazz Journalists Association.
Ruffin can say without exaggeration that he has spent his entire life in jazz. One of her earliest memories is of a burglary at her parents' record store on the West Side of her hometown of Chicago, while a Miles Davis record was playing on the store's turntable. "[It was] "If I were a bell," where he starts off by saying, "I'll play it and tell you what it's like later," Ruffin says. "In the end, the needle went back to the beginning. I was scared, but I also remember every time that voice came back and said that, I was fine.
This is just the first in a lifetime of jazz stories and memories that Ruffin has collected. Many more have come straight out of the mouths of the musicians he interviewed during his four decades on the radio: interviews on which he built his exceptional reputation not only as a broadcaster and storyteller, but as a expert and historian of music. What he has not learned from his personal and professional experience, he acquired at the forefront of jazz history, soaking up the stories and lessons of musicians with the same attention to detail as it brings to the programming of music.
Mark Ruffin was born September 24, 1956 in Chicago, Illinois. Her father, an electrician, opened a store on Chicago's West Side that repaired televisions and radios on one side and sold records on the other. It was also at Ruffin's Records that Mark (and his five siblings) acquired the technical and musical knowledge that would form the core of his jazz radio career.
Ruffin's first radio experience was at Southern Illinois University in Carbondale, where he worked on the staff of campus radio stations WSIU and WIDB. His knowledge of electronics enabled him to obtain his then required FCC license; his love of music gave him something to do when he used these electronic devices.
Over the next 25 years, Ruffin worked at WDCB-FM, where he began his career as an interviewer; WBEE-AM, where it won the station's audience success for the first time in twenty years; and WNUA-FM, where he produced the nationally broadcast Ramsey Lewis Show. He then returned to WBEZ, before moving on in the 2000s to his own nationally-broadcast show (co-hosted with Neil Tesser), Listen Here.
In 2006, Ruffin was hired by Harpo Productions – Oprah Winfrey's shop – as a producer on Winfrey's channel on what was then XM Satellite Radio. Rather than a gateway out of music radio, Oprah Radio turned out to be a transition from terrestrial jazz radio to satellite jazz radio: in the fall of 2007, he had moved to New York to work at XM's Real Jazz. , serving as program director even after the 2009 merger of XM and Sirius Satellite Radio and continues to this day.
On another front, Ruffin in the 1990s began writing fiction, particularly screenwriting, eventually becoming a semi-finalist in the 2003 Sundance Institute Screenplay Competition. One of his first (non-produced) screenplays, a tale from the Jazz Age in which Fats Waller is kidnapped by Al Capone, suggested a unique form of historical fiction focused on jazz. Ruffin reinvented himself as a writer of print stories, and from 2003 to 2020 worked on the collection that has now become "Bebop Fairy Tales". "How can I explain it, other than the fact that it's about the power of jazz in people's lives?" " he says. "I guess the real thread running through all three stories is 'intolerance is stupid'. "
Share the article on social media or by email: